PTFE Belting
Durable belts to keep your operation running smoothly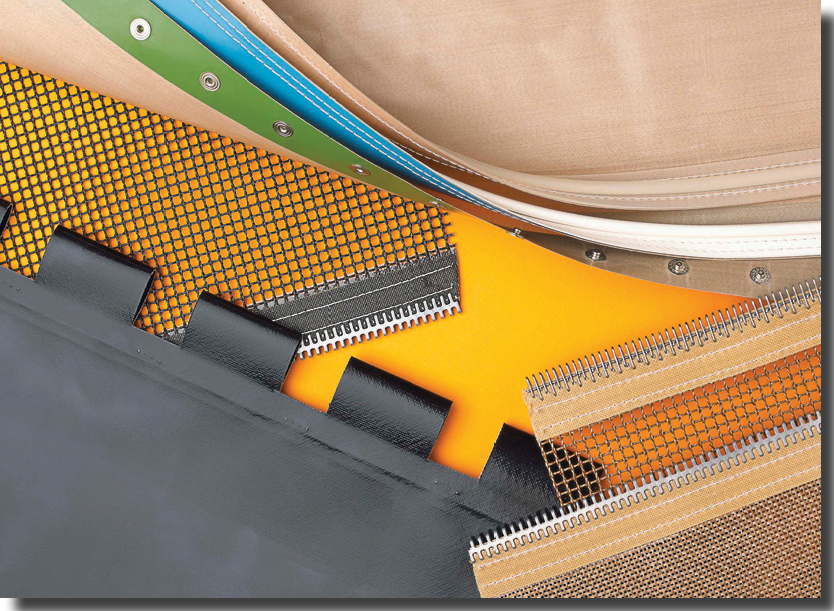 Exceptional release properties, outstanding flexibility and superior temperature resistance.
Fabric Grades:
Premium
These fabrics have a heavy coating of PTFE to provide the easiest release and the highest chemical resistance and electrical strength. Preffered for applications where fabric weave impression is undesirable and sticky materials are conveyed.


Standard
Offering a smooth surface and excellent nonstick properties, this grade is the most widely used PTFE-Glass belt


Mechanical & Economy
Light PTFE coating offers economy in applications where increased surface texture is useful.


Crease & Tear Resistant
This grade offers substantially higher tear strength for high speed applications.


Anti-Static/Conductive
Specially treated fabric reduces static build-up.
Silicone Rubber Coated Fiberglass
These belts offer excellent release properties up to 500 F, superior abrasion, flex and chemical resistance and outstanding dielectric properties in demanding environments. Silicone belts are ideal in applications where high flexibility and a high slip coefficient are required. Available coated on one or two sides in red or white.
Porous/Open Mesh
These materials allow for outgassing of volatile products and promote drying by allowing airflow through the belt. These belts are ideal for drying, curing and boding inks, pigments and powders to fabrics and non-woven materials.
Choosing the Right Belting Material
Key factors to consider:
Temperature Range – Our PTFE and silicone rubber coated belts can withstand continuous temperatures of -100 °F to 500 °F (-73 °C to 260 °C). Note - Kevlar substrate products temperature range is -100 °F to 356 °F (-73 °C to 180 °C)
Pliability – If the material is to track around pulleys that drive the belt, the diameter of the pulley is critical. The smaller the roller the more flexible the belt must be. Taconic's thinner materials (0.010" and under) are more pliable than heavier coated fabrics
Release Qualities – The surface finishes of our belts range from a rough, semi-porous finish to a super smooth surface
Strength – Options to be considered are breaking, tensile and tear strength, how heavy of a load the belt carries, its speed and tension
Fabrication Options
Click here to learn more about the types of splices, edge reinforcements and tracking & guiding devices we offer.
Ordering Your Taconic Belt
Please have the following information available:
Dimensions of belt (width and length)
Desired splice, edge reinforcement and tracking devices, where needed
Pulley size and type
Any special construction or instructions concerning belt fabrication. In cases of complex fabrication, a print may be requested
Applications
Click here to learn about the different applications for Taconic's PTFE and silicone rubber coated belts.