PTFE Fabrics
Nonstick fabrics for a host of applications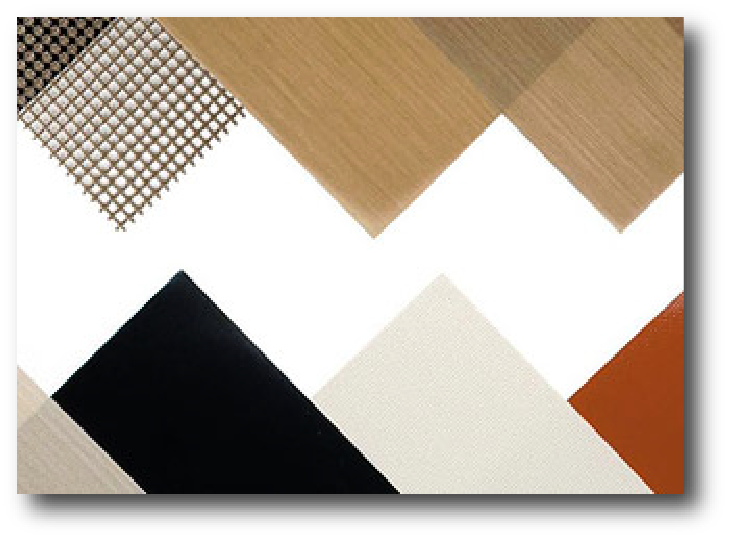 The advantages of PTFE and silicone rubber coatings on fiberglass fabric are as numerous as the applications for which Taconic's engineered fabrics are suited.
Premium Grade PTFE-Glass Fabric
Premium Grade PTFE-Glass Fabric offers optimum release and durability in harsh environments. Applications include reusable pan liners for cooking and baking, laminate separator sheets, tortilla and pizza crust belts, heat sealing and applications where fabric weave impression is undesirable.


Standard Grade PTFE-Glass Fabric
Standard Grade PTFE-Glass Fabric is used in the widest range of applications due to its combination of high performance and moderate price. Applications include release sheets on heat-sealing machines and laminate presses, release surface for paints, adhesives and food products, gaskets, seals and bearings for chemicals, oils, and gases, thermal insulation for high temperature and chemical resistant applications and covers on hot platens, chutes, hoppers and troughs.


Mechanical Grade PTFE-Glass Fabric
Mechanical Grade PTFE-Glass Fabric is preferred in applications where economy is more important than maximum resistance to chemicals and solvents. Applications include chemical resistant laboratory aprons, protective curtains for paint spraying and bottle washing, acid protection and food packaging.


Economy Grade PTFE-Glass Fabric
Economy Grade PTFE-Glass Fabric is designed for large volume applications that require cost-efficiency and high performance. Applications include leaders for processing paper, plastics, metallic foils and cloth, separator sheets for processing uncured rubber and manufacturing of abrasive wheels.


Porous Bleeder & Filter Cloth
Porous Bleeder & Filter Cloth promotes drying by allowing airflow through the fabric. It is used as a release cloth in vacuum molding, filtration, strainers and pollution abatement.


Crease & Tear Resistant PTFE-Glass Fabric
Crease & Tear Resistant PTFE-Glass Fabric is used where high tear strength and good flex life is required, including high speed packaging belts and as edge reinforcement for industrial belts in the packaging and plastics industries.


Tac-Black™ Anti-Static/Conductive
Specially treated fabric that reduces static buildup. It can be provided with carbon loading which offers semi-conductive and anti-static properties.


Silicone Rubber Coated Fabric
Silicone Rubber Coated Fabric offers a tough coated surface for applications where high flexibility and a high slip coefficient are required. It is an excellent electrical insulator in harsh environments, has high resistance to mild alkali, non-oxidizing acids, most salts, mineral lubricating oil, air, moisture and sunlight and it will release adhesive and viscous materials which often adhere to a fluorocarbon resin. Applications for silicone coated fabric include electrical insulation tapes, gaskets, heater covers, safety curtains, conveyor belts for industrial processes, foam manufacturing, shrink tunnels and release and separator sheets for viscous processes in the chemical, rubber, plastic, electrical and aerospace industries.
Open Mesh Fabric
Are often used in the creation of belts because they allow outgassing of volatile products and promote drying by allowing airflow through the belt. These belts are ideal for drying, curing and bonding inks, pigments and powders to fabrics and non-woven materials.