Drying & Lamination of Interior Automotive Materials

Interior Component Manufacturing
For over 50 years, Taconic has worked with Tier 1 suppliers to the automotive industry by providing specialized belting to create interior components and panels. This application is sometimes referred to as "Fusing" whereby several layers of varied materials are shaped and fused into a finished component.
Taconic's unique PTFE coated fiberglass fabric belts are used in the forming of automotive headliners (roof liners) and acoustic panels. The special engineered coated belts provide excellent release characteristics and dimensional stability – both traits lead to strong performance and long working life.
Downtime in the automotive industry can be a serious problem. For that reason, Taconic belting has been developed to survive continual heat, pressure, and abrasion to allow our customers to produce more components without a machine shut down and belt replacement.
Taconic – Finding a Better Way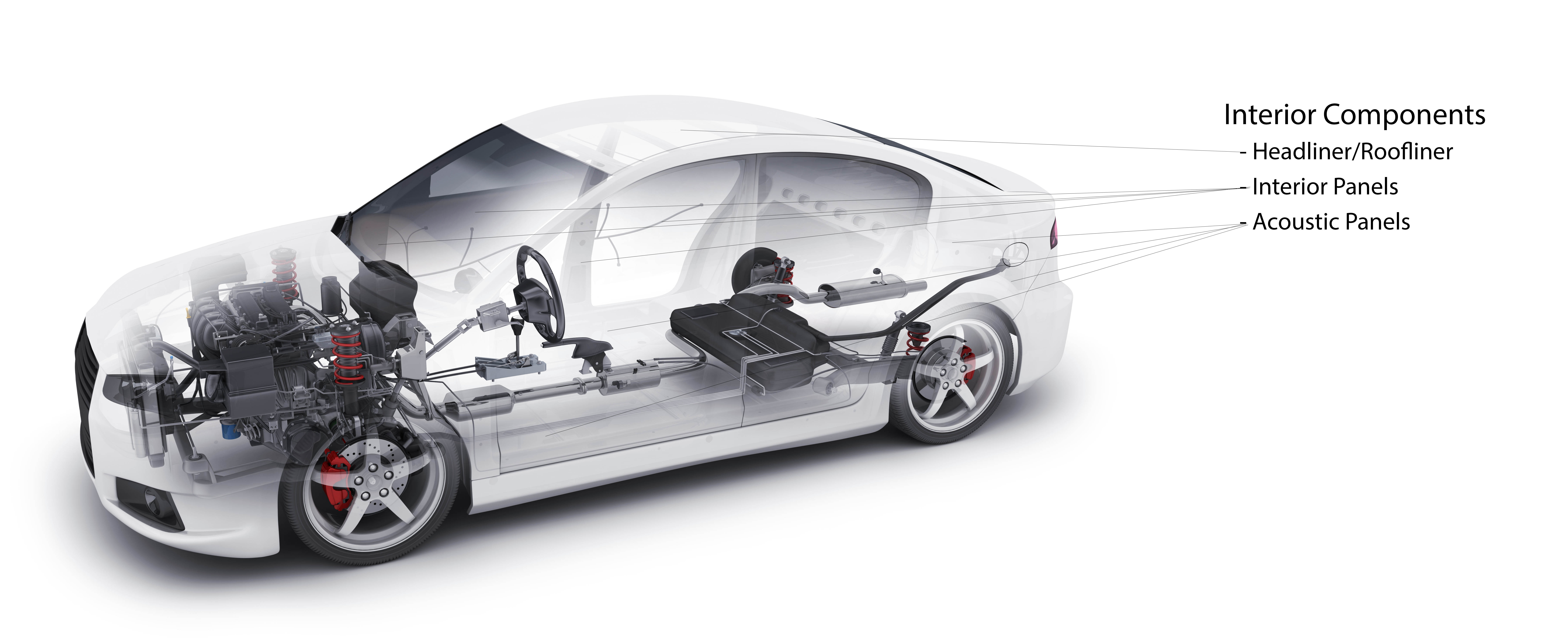 Automotive Related Products:
Description
Part Number
Overall Thickness (inches)
Coated Weight (lbs/sq yd)
Tensile Strength Warp/Fill (lbs/inch)
Tear Strength Warp/Fill (lbf)
Application
Heavy Weight Belting

Premium Smooth

8109
0.0095
1.00
325 / 180
12.0 / 8.0




| Rubber Extrusion

| Headliner/Trunkliner

| Door Panel Lamination

A1108
0.0110
1.15
400 / 285
14.0 / 11.0
A1048
0.0245
2.15
600 / 575
40.0 / 40.0
8359
0.00354
3.02
913 (warp)
27 (warp)
Standard Smooth
8148
0.0135
1.35
500 / 300
20.0 / 15.0


Standard Textured

8208
0.0185
1.55
400 / 300
20.0 / 15.0
8278
0.0245
1.76
425 / 500
50.0 / 55.0
Tac-Black
Anti-Static
8143AS
0.0140
1.34
475 / 350
25.0 / 15.0
Description
Part Number
Overall Thickness (inches)
Coated Weight (lbs/sq yd)
Tensile Strength Warp/Fill (lbs/inch)
Tear Strength Warp/Fill (lbf)
Maximum Continuous Operating Temp (F°/C°)
Open Mesh Belting
Glass Brown
8308
0.0330
0.88
230 (warp)
N/A




Headliner Lamination

Kevlar® Gold
8305K
0.0250
0.58
275 (warp)
N/A
Kevlar®/ Glass Gold
8305KG
0.0440
1.27
475 (warp)
N/A
Porous PTFE Coated Belts
8255
0.0291
0.82
170 (warp)
N/A

Rubber Extrusion
*All operation temps min/max F are -100/500
Automotive Product Data - Tapes
Anti-Squeek/Rattle Applications
Part Number
Overall
Thickness
(inches)
Adhesive Thickness (inches)
Tensile Strength Warp/Fill (lbs/inch)
Elongation
(%)
Dielectric Strength (volts)
Peel Strength (oz/inch)
Operating Temp. Min/Max (°F)
Film Tapes
UHMW Film Tac-Tapes™ - ACRYLIC
6311-05
0.0072
0.0022
30
300
12000
50
-40 / 150
6311-10
0.0122
0.0022
60
350
14000
40
-40 / 150
Skived PTFE Tac-Tapes™ - ACRYLIC
6113-03
0.0050
0.0020
8
100
10000
35
-40 / 350
6113-05
0.0070
0.0020
20
200
13500
50
-40 / 350