Rubber Profile Production
PTFE coated glass fabrics and conveyor belting for extruded rubber profile production
Rubber Profile Production
For over 50 years, the Automotive industry has trusted Taconic's PTFE coated glass fabrics and conveyor belting for extruded rubber profile production.
These key components are commonly found in vehicle doors, windows, and trunks/hoods as:
• Weatherstripping
• Seals
• Boots
• Bellows
• Caps/bumpers
Taconic's nonstick premium materials convey extruded profiles through high temperature ovens where they cure prior to additional processing.
In some cases, a pattern is desired on the extruded rubber. In this instance, a more textured silicone or PTFE coated glass fabric can be deployed to create the desired surface finish. The belting material delivers excellent release characteristics with a desired finish (from embossed to smooth).
PTFE coated fabrics and conveyor belts are chosen for this application due to their chemical and temperature resistance, and high release coating, which ensures the rubber profile cools without sticking.
Taconic's materials deliver long life ensuring minimum machine maintenance and downtime. These premium coated fabrics are also supplied as finished conveyor belts with a variety of surface textures, and splicing/joining options, specially designed to withstand the demanding temperature and tension conditions associated with this application.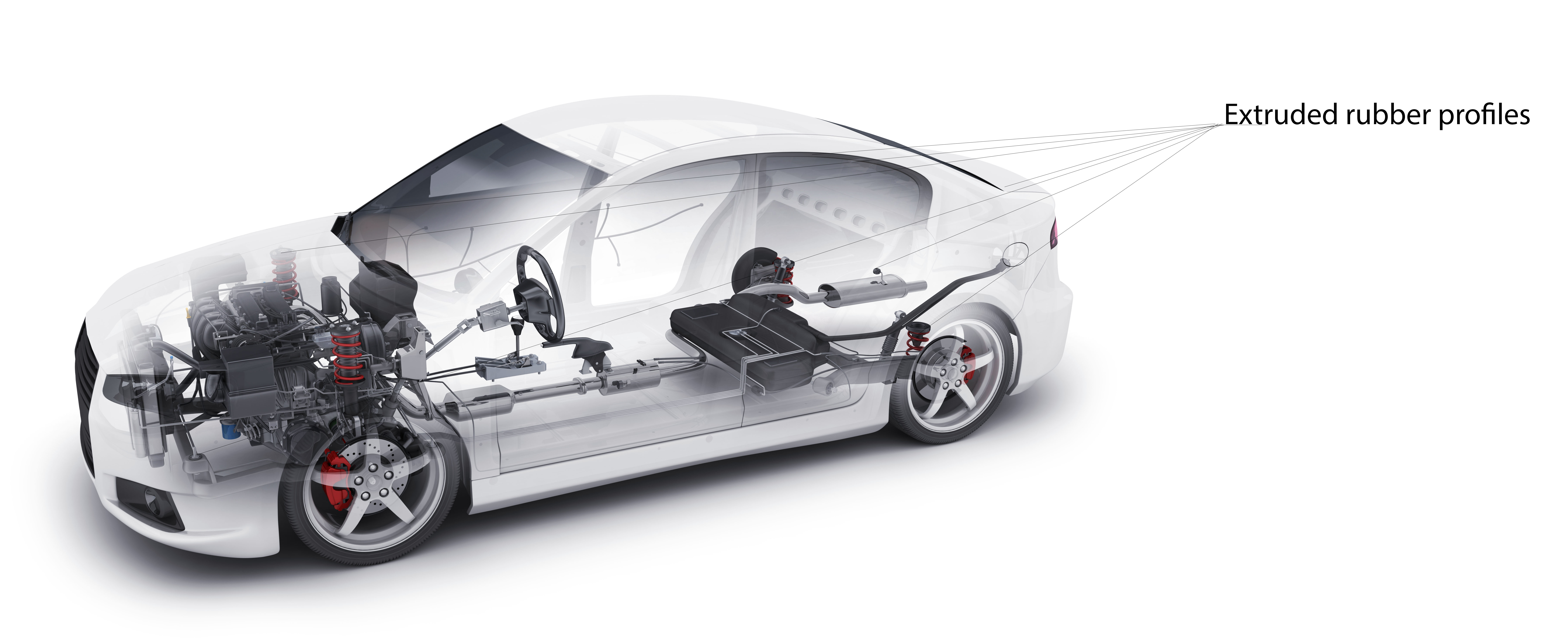 Taconic Materials for Rubber Profile Production:
Description
Part Number
Overall Thickness (inches)
Coated Weight (lbs/sq yd)
Tensile Strength Warp/Fill (lbs/inch)
Tear Strength Warp/Fill (lbf)
Heavy Weight Belting

Premium Smooth

8109
0.0095
1.00
325 / 180
12.0 / 8.0
A1108
0.0110
1.15
400 / 285
14.0 / 11.0
A1048
0.0245
2.15
600 / 575
40.0 / 40.0
8359
0.00354
3.02
913 (warp)
27 (warp)
Standard Smooth
8148
0.0135
1.35
500 / 300
20.0 / 15.0


Standard Textured

8208
0.0185
1.55
400 / 300
20.0 / 15.0
8278
0.0245
1.76
425 / 500
50.0 / 55.0
Tac-Black
Anti-Static
8143AS
0.0140
1.34
475 / 350
25.0 / 15.0
Description
Part Number
Overall Thickness (inches)
Coated Weight (lbs/sq yd)
Tensile Strength Warp/Fill (lbs/inch)
Tear Strength Warp/Fill (lbf)
Open Mesh Belting
Porous PTFE Coated Belts
8255
0.0291
0.82
170 (warp)
N/A
All products listed above have an Operating Temp. Min/Max (°F) of -100 / 500