Tortilla Press Belts
Top quality tortilla press belts with top quality customer service. What else could you want?
Dudak Dolgusu, ameliyatsız yüz germe, botoks,lazerle cilt tedavisi,grp, prp tedavisi, kök hücre dudak dolgusu antalya
Attorney, lawyer, and law firm directory to find a lawyer, attorneys, and local law firms. Lawyers near me is the #1 lawyer source.LawyersLawyers from our extensive network ready to answer your question. Popular Lawyer Directories Bankruptcy Lawyer Business Lawyer Car Accident Civil Rights Lawyer Corporate Law Criminal Defense Divorce Lawyer DUI/DWI Lawyer Estate Planning Lawyer Family Lawyer Mortgage Lawyer Immigration Intellectual Property Personal Injury Real Estate Social Security Disability Taxation Traffic Violations Wills and Probate Workers Compensation Alabama ,Alaska ,Arizona ,Arkansas ,California ,Colorado ,Connecticut ,Delaware ,District Of Columbia ,Florida ,Georgia ,Guam ,Hawaii ,Idaho ,Illinois ,Indiana Iowa ,Kansas ,Kentucky ,Louisiana ,Maine ,Maryland ,Massachusetts ,Michigan ,Minnesota ,Mississippi ,Missouri ,Montana Nebraska ,Nevada ,New Hampshire ,New Jersey ,New Mexico ,New York ,North Carolina ,North Dakota ,Northern Mariana Islands ,Ohio ,Oklahoma ,Oregon ,Pennsylvania ,Puerto Rico ,Rhode Island ,South Carolina ,South Dakota ,Tennessee ,Texas ,U.s. Virgin Islands ,Utah ,Vermont ,Virginia ,Washington ,West Virginia ,Wisconsin ,Wyoming Christian Hill And Associates - Houston Personal Injury Lawyer. At Christian Hill & Associates we care about you and your well being. Here, you are not just a case number.Street & Ragsdale - Dallas Personal Injury Lawyers. Dallas law firm Street & Ragsdale has more than 37 years experience handling personal injury and wrongful death cases. Law Offices of Jeff Rasansky - Dallas personal injury lawyer Jeff Rasansky goes to work each morning with one mission in mind: to fight for the rights of personal injury victims.Polewski & Associates - Dallas Personal Injury Law Firm. At Polewski & Associates, we represent clients in all types of personal injury, malpractice and wrongful death lawsuits. Your Law Firm - Are you getting the amount of internet traffic you should? Get listed here!

Why we're different...
Durable tortilla press belts and dependable service are what you need. At Taconic, that's exactly what you get.
With our high performance nonstick belts, you'll watch your belt changeovers go down while your productivity goes up. Let us help keep your production lines running smoothly.
R&D Driven by Innovation: Our brilliant engineering staff is constantly searching for ways to improve our current product line up while developing innovative, application specific, products which solve issues commonly found with competitive materials.
An example of this can be seen in the creation of our A1139, tortilla specific, material. This material was a by-product of research conducted on competitive products plagued with grease and compression forces problems. The outcome was an industry leading, wear and grease resistive, material at a competitive price point.
Thanks to our engineering staff, we pride ourselves in offering the best, most advanced, tortilla press belt materials on the market.
▶ Quality Control/Testing: Each coated master roll goes through a rigorous series of testing to ensure consistent quality while you, the end user, receive the most accurate data available for that product. Tensile strength, tear strength, dielectric strength and adhesion are just some of the test methods we use to guarantee each and every roll of material is up to as-advertised standards.
▶ Customer Service: Selling product to a customer in need is easy, but what comes after that? For many, the answer is apparently "not much". Taconic's customer service staff is dedicated to maintaining one hundred percent customer satisfaction. Whether it's during the sale, immediately after purchase or several years down the road, our customer service staff will be there to answer any questions or address concerns that may arise.
Product Lineup Overview...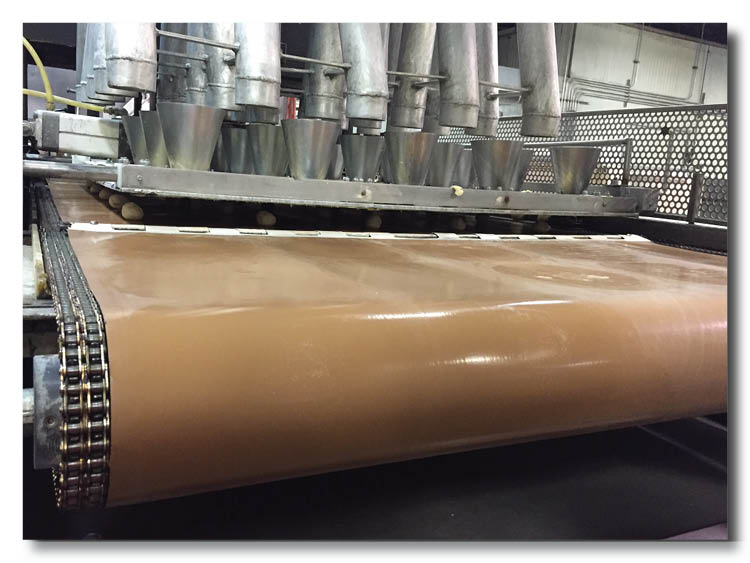 Features:
Nonstick
Temperature resistant
optimal release
Oil and grease resistant
Fewer belt changeovers
Chemical resistant








8108:
Standard classification 10 mil. (0.0090 inches total thickness) woven fiberglass material for tortilla industry applications. Lowest price of the four available products*. Potential for grease staining with use.
8109:
All the benefits of 8108 with slightly thicker, more durable, coating (0.0095 in. total thickness).
A1046:
10 mil. product designed specifically to handle issues with grease and compression forces commonly found in the tortilla industry. Contains non-stain coating structure with deep tan color.
A1139:
Highest performance option with wear resistive additives for best end results. Attractive blue in color.
TL7100:
Designed with heat transfer in mind. Faster heat transfer than 8108, 8109, A1046 and A1139.
Product Comparison Table...
Part Number
Overall Thickness (inches)
Coated Weight (lbs/sq yd)
Tensile Strength Warp/Fill (lbs/inch)
Tear Strength Warp/Fill (lbf)
Maximum Continuous Operating Temp
(F°/C°)
8108
0.0090
0.91
310/175
12.0/7.0
500/260
8109
0.0095
1.00
325/180
12.0/8.0
500/260
A1046
0.0100
1.00
300/200
12.0/10.0
500/260
A1139
0.0098
1.00
300 / 165
12.0 / 9.0
500/260
TL7100
0.0072
0.700
200/135
13.0/7.0
500/260
Use and care:
Once you have your Taconic Tortilla Press Belts, it's important to understand how to correctly maintain them. Below you will find critical information pertaining to the se and care of the new belts.

This is also available in poster form, in a variety of languages, for employee reference/training.