Solus® Architectural Fabric Projects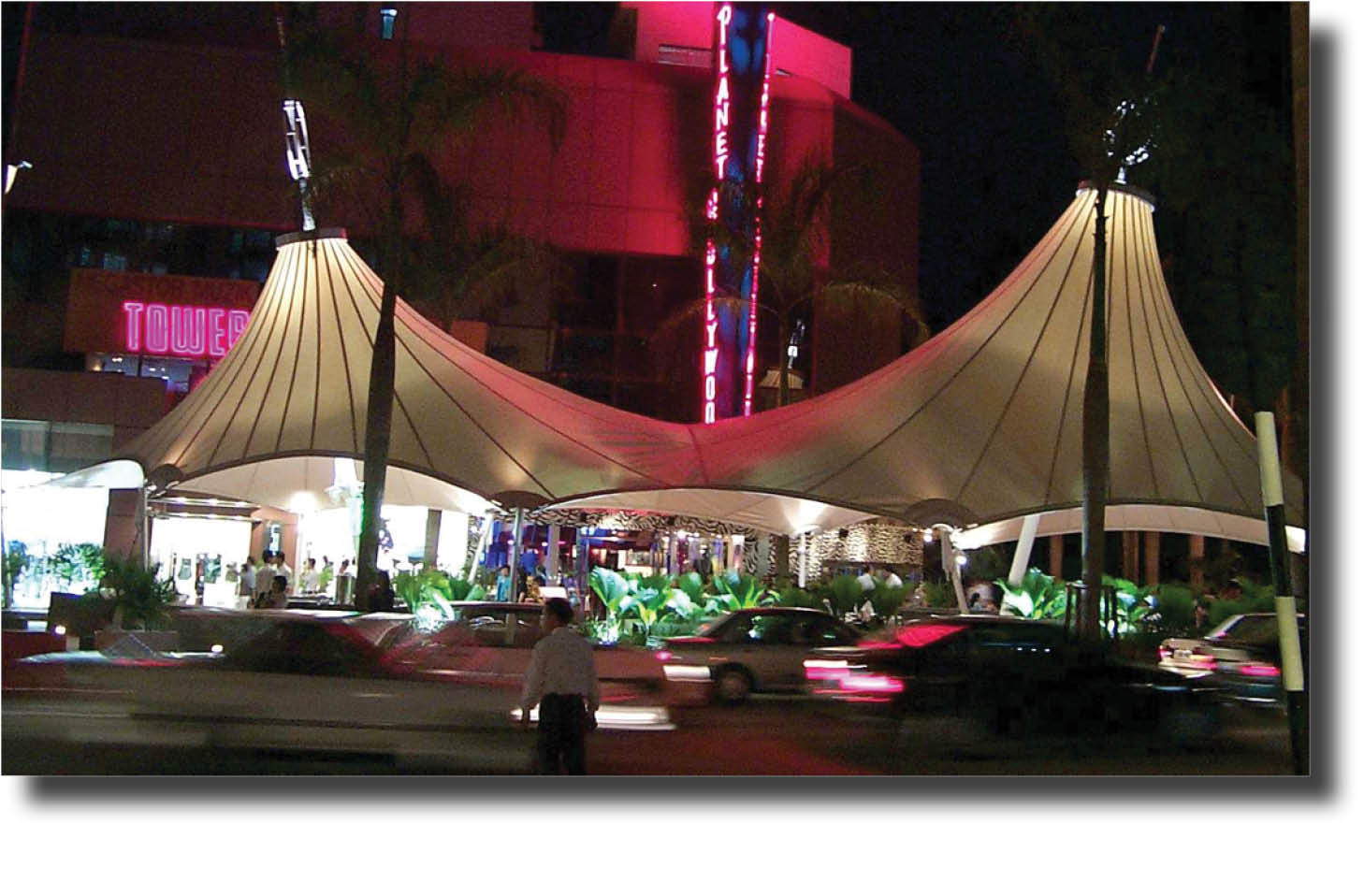 Architectural Fabric Projects
Solus® PTFE Coated Fiberglass Fabrics create unique, innovative architectural structures. Solus® fabrics are designed to provide lightweight, fireproof, convenient and beautiful alternatives to traditional architectural materials.
• The Skyscape
• Kota Samarahan Mosque
• British Racing Drivers' Club
• Mina Tent Project
The Skyscape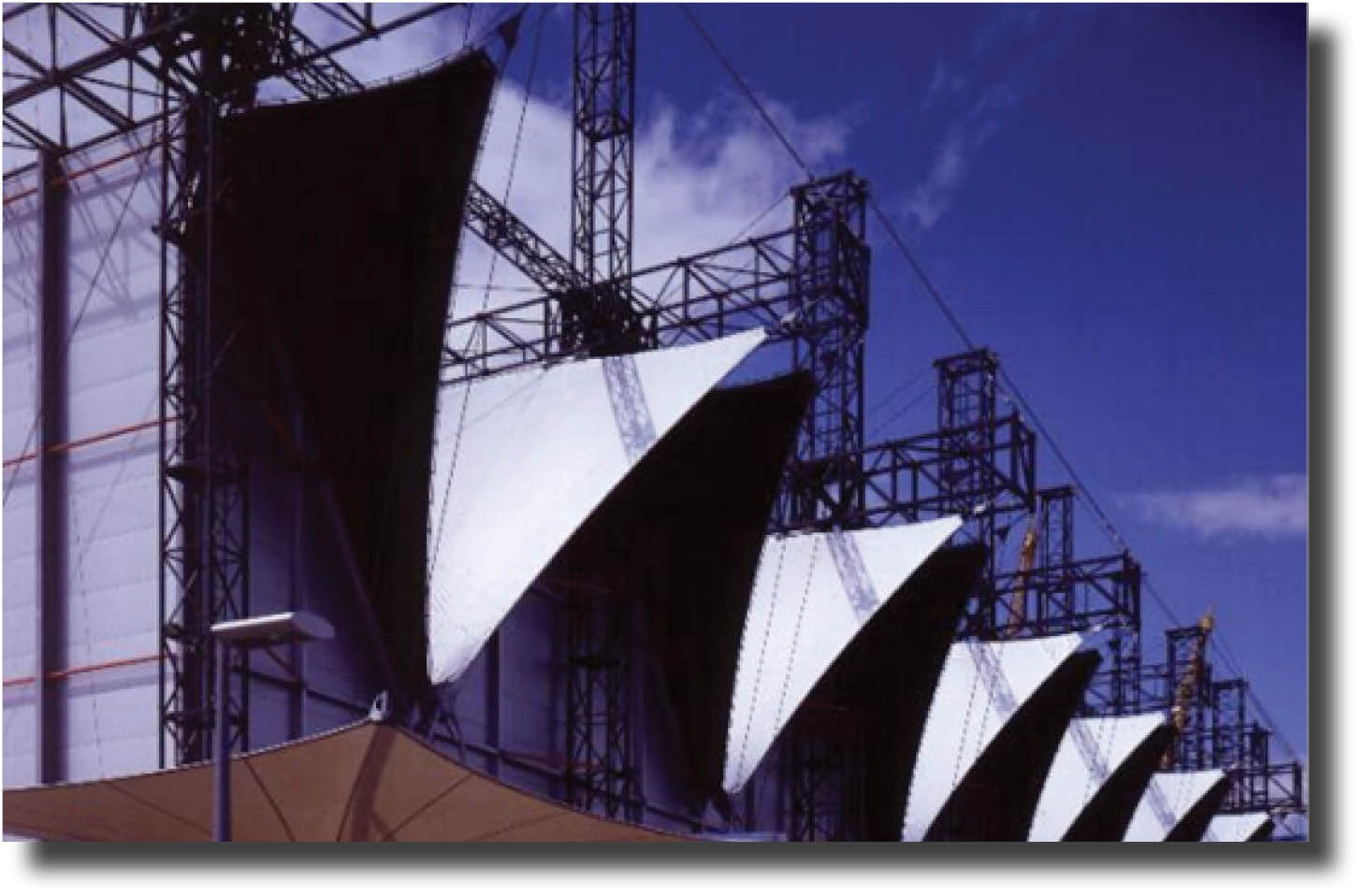 Client:
New Millenium Experience
Location:
Greenwich, UK
Fabric:
Solus 1200 SB (Silver/Black)
Design & Build:
Edwin Shirley Staging Ltd
Fabric Engineering:
FTL Happold
Fabrication:
Landrell
"Unique characteristics and major innovations in the field of tensioned fabric structures ensure Britain's biggest theatre and concert venue stands well apart from all other entertainment centers." (Landrell)
Located next to London's Millennium Dome, the Skyscape is a 120 meter by 53 meter single story portal framed building, designed to conform with the building requirement for permanent structures. It houses two 2500 seat daytime cinemas that convert into a single live concert venue at night. Its enormous clear span membrane roof provides uninterrupted spaces measuring 200 ft square formed in dramatic arched valleys.
A unique feature of Skyscape is the new Solus 1200 SB (silver/black), developed in conjunction with Landrell Fabric Engineering. Its exterior coating is silver PTFE while its inner coating is black PTFE. This provides the necessary black-out environment for a theatre venue while the silver exterior provides a striking appearance which emphasizes the drama of the building's function. It also enables spectacular night time lighting effects to be more effectively incorporated.
With a potential lifetime of 25 years plus due to the use of Solus PTFE coated glass fabric, Skyscape's innovative tensioned fabric structure will host many of the world's musical superstars during London's Millennium celebrations.
Kota Samarahan Mosque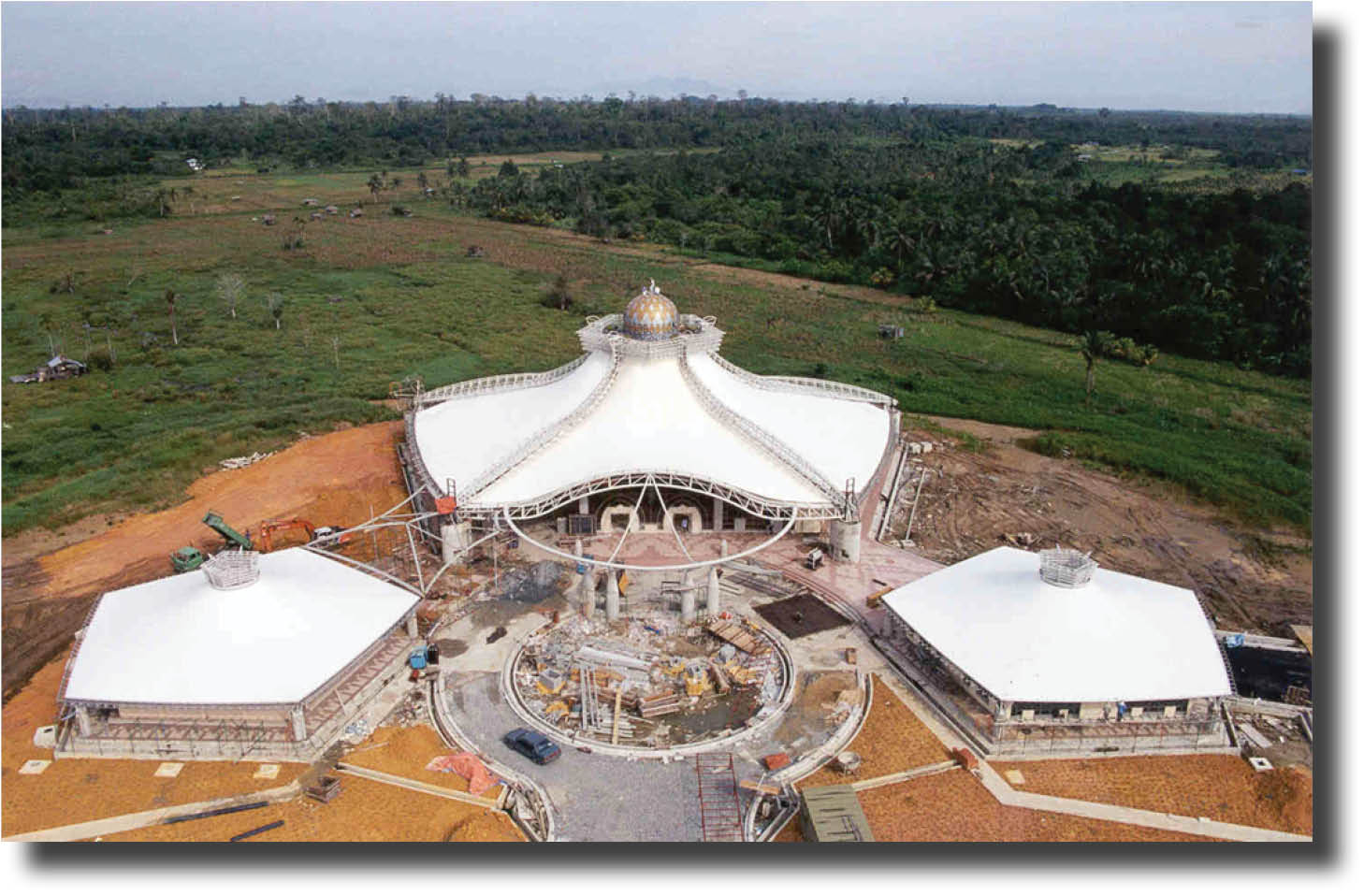 Client:
JKR Sarawak
Location:
Kota Samarahan, Sarawak, Malaysia
Fabric:
Solus 1300
Design & Build:
SOM Architects Sdn Bhd, Malaysia
Fabric Engineering:
Sediabena Sdn Bhd
Fabrication:
Sediabena Sdn Bhd
Solus® fabric was selected to create a striking, clear span, tensioned membrane roof for the District Mosque in Sarawak, Malaysia. Kota Samarahan, a city located in the province of Sarawak in the northern part of Borneo Island, is known for its harsh environment.
During the day, the 7,000 sq. meters of Solus® Fabric allow soft diffused lighting to be transmitted into the building interior. The District Mosque in Kota Samarahan, Sarawak is the first mosque in the world with a roof entirely made of PTFE coated glass fabric.
British Racing Driver's Club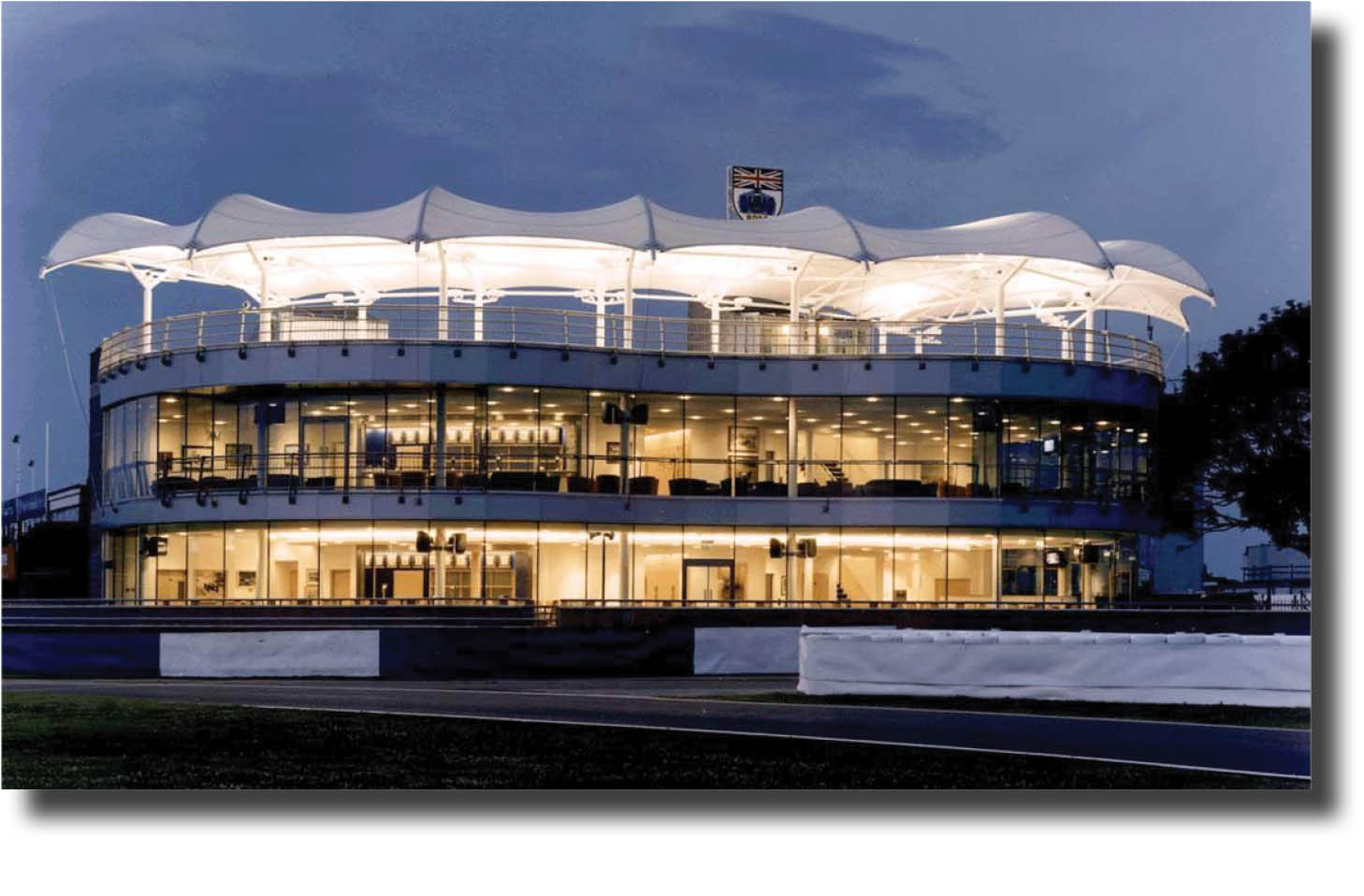 Client:
Silverstone Circuit Ltd.
Location:
Silverstone, UK
Fabric:
Solus 1120
Design & Build:
Ridge & Partners
Fabric Engineering:
PEP Civil & Structures Ltd.
Fabrication:
Architen Ltd/
The landmark British Racing Drivers' Clubhouse in the heart of Silverstone Formula 1 circuit was designed with Solus® 1120. For this arch-supported membrane roof, consistency in mechanical properties and color bleaching was of utmost importance.
Mina Tent City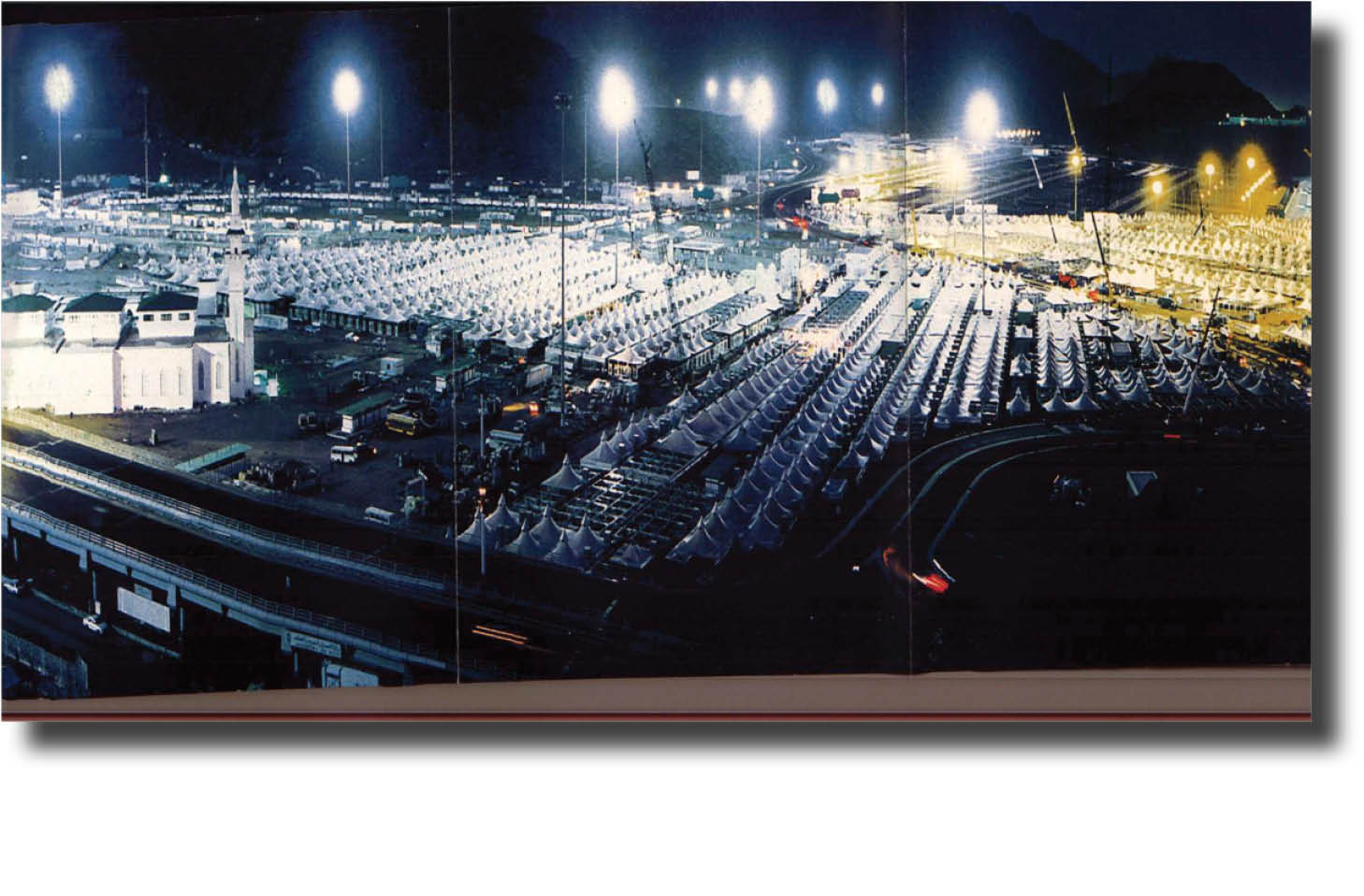 Client:
Ministry of Public Works and Housing
Kingdom of Saudi Arabia
Location:
Mina Valley, Holy Lands, Saudi Arabia
Fabric:
Solus 1420
Design & Build:
SL, Stuttgart, Germany
Fabric Engineering:
Tensys, Bath, UK
Fabrication:
Membrane Asia, Sri Lanka
Arab membrane, Saudi Arabia
" The largest membrane project in the world"
Every year, more than two million pilgrims perform the Hajj, the pilgrimage to the Holy Mosque in Makkah. The Mina Valley is one of the Hajj stations and hosts the pilgrims for three days and nights.
During the 1997 Hajj season a disastrous fire destroyed tens of thousands of cotton tents. The Saudi Authorities decided to re-build this vast city of tents by installing 40,000 durable fireproof tents. The only fabric that met these requirements was PTFE coated fiberglass.
Taconic's Solus® 1420 fabric was selected after a worldwide competition for the first phase of this project. Within a period of four months, Taconic produced and supplied a total quantity of 330,000 sq. meters of architectural fabric.