PTFE Belting
Durable belts to keep your operation running smoothly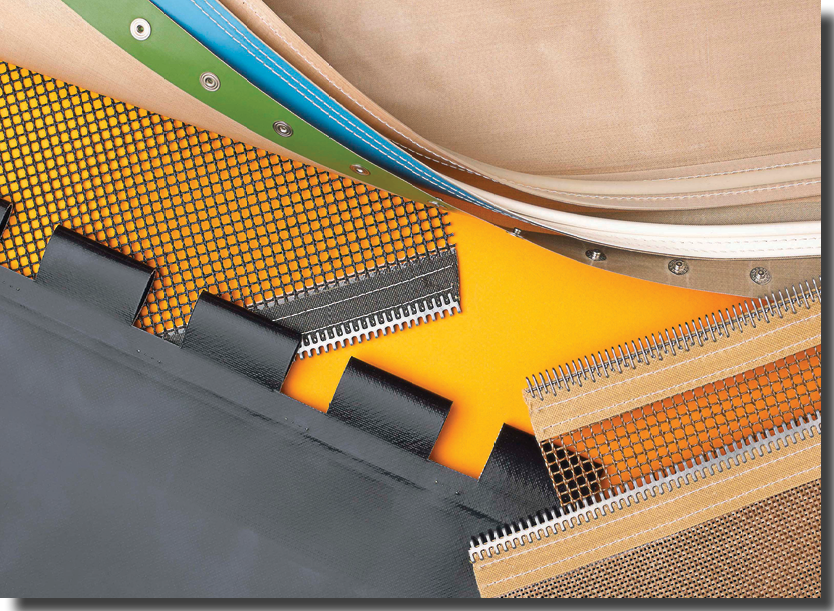 Taconic manufactures PTFE and silicone coated fiberglass belts that offer exceptional release properties, outstanding flexibility and superior temperature resistance. By designing and delivering the best belts possible, our customers can achieve both high performance and maximum value.
Choosing the Right Belting Material
Key factors to consider:
Temperature Range – Our PTFE and silicone rubber coated belts can withstand continuous temperatures of -100 °F to 500 °F (-73 °C to 260 °C)
Pliability – If the material is to track around pulleys that drive the belt, the diameter of the pulley is critical. The smaller the roller the more flexible the belt must be. Taconic's thinner materials (0.010" and under) are more pliable than heavier coated fabrics
Release Qualities – The surface finishes of our belts range from a rough, semi-porous finish to a super smooth surface
Strength – Options to be considered are breaking, tensile and tear strength, how heavy of a load the belt carries, its speed and tension
Fabric Grades
Although the majority of belts are made with standard grade belt fabric, Taconic offers a variety of belt materials to meet your specific needs. Click here to learn more.
Fabrication Options
Click here to learn more about the types of splices, edge reinforcements and tracking & guiding devices we offer.
Ordering Your Taconic Belt
Please have the following information available:
Dimensions of belt (width and length)
Desired splice, edge reinforcement and tracking devices, where needed
Pulley size and type
Any special construction or instructions concerning belt fabrication. In cases of complex fabrication, a print may be requested
Applications
Click here to learn about the different applications for Taconic's PTFE and silicone rubber coated belts.
Description
Part Number
Overall Thickness (inches)
Coated Weight (lbs/sq yd)
Tensile Strength Warp/Fill (lbs/inch)
Tear Strength Warp/Fill (lbf)
Maximum Continuous Operating Temp (F°/C°)
Heavy Weight Belting
Premium Smooth
8039
0.0029
0.26
105 / 75
3.0 / 2.0
500/260
Premium Smooth
A952
0.0030
0.29
95 / 70
3.5/2.5
500/260
Premium Smooth
TL-7300
0.0070
0.70
200 / 150
13.0 / 11.0
500/260
Premium Smooth
8109
0.0095
1.00
325 / 180
12.0 / 8.0
500/260
Premium Smooth
A1139
0.0098
1.00
300 / 165
12.0 / 9.0
500/260
Premium Smooth
A1048
0.0245
2.15
600 / 575
40.0 / 40.0
500/260
Premium Textured
8279
0.0250
1.98
410 / 600
25.0 / 20.0
500/260
Standard Smooth
8038
0.0026
0.24
100 / 75
2.0 / 1.5
500/260
Standard Smooth
8108
0.0090
0.91
310 / 175
12.0 / 7.0
500/260
Standard Smooth
8148
0.0135
1.35
500 / 300
20.0 / 15.0
500/260
Standard Textured
8208
0.0185
1.55
400 / 300
20.0 / 15.0
500/260
Standard Textured
8278
0.0245
1.76
425 / 500
50.0 / 55.0
500/260
Economy Textured
8226
0.0200
1.31
350 / 300
80.0 / 75.0
500/260
Economy Textured
8356
0.0336
2.07
600 / 450
85.0 / 60.0
500/260
Porous
8115
0.0125
0.78
220 / 190
45.0 / 60.0
500/260
Crease & Tear Resistant Smooth
8054
0.0045
0.43
170 / 160
7.0 / 6.5
500/260
Crease & Tear Resistant Smooth
8064
0.0050
0.50
180 / 175
10.5 / 8.5
500/260
Crease & Tear Resistant, Textured
8274
0.0245
1.78
475 / 520
70.0 / 90.0
500/260
Tac-Black™
8103
0.0090
0.91
300 / 190
15.0 / 10.0
500/260
Tac-Black™
8143
0.0140
1.36
425 / 325
20.0 / 15.0
500/260
Tac-Black™ Anti-Static
8103AS
0.0090
0.91
285 / 190
12.0 / 8.0
500/260
Tac-Black™ Anti-Static
8143AS
0.0140
1.34
475 / 350
25.0 / 15.0
500/260
Silicone Coated
8242
0.0220
1.40
285 / N/A
N/A
500/260
Silicone Coated
8231R
0.0230
1.51
350 / N/A
N/A
500/260
Open Mesh Belting-PTFE/Glass
Glass Tan
8195
0.0200
0.93
300
N/A
500/260
Glass Black
8303
0.0330
0.88
230
N/A
500/260
Glass Brown
8308
0.0330
0.88
230
N/A
500/260
Glass Tan
8A970
0.0330
0.88
240
N/A
500/260
Open Mesh Belting - PTFE/Kevlar® & Kevlar®/Glass
Kevlar® Gold
8305K
0.0250
0.58
275
N/A
500/260
Kevlar® Black Anti-Static
8305KAS
0.0250
0.54
275
N/A
500/260
Kevlar®/ Glass Brown
A1087
0.0390
0.68
600
N/A
500/260
Kevlar®/ Glass Gold
8305KG
0.0440
1.27
475
N/A
500/260